Welcome to the Surgeon Simulator Wiki!
We currently feature 89 articles and 381 images.
Versions
Contents
The following Image is an imagemap, you can click on most of the things that are in the image to go to their pages and check more infos about them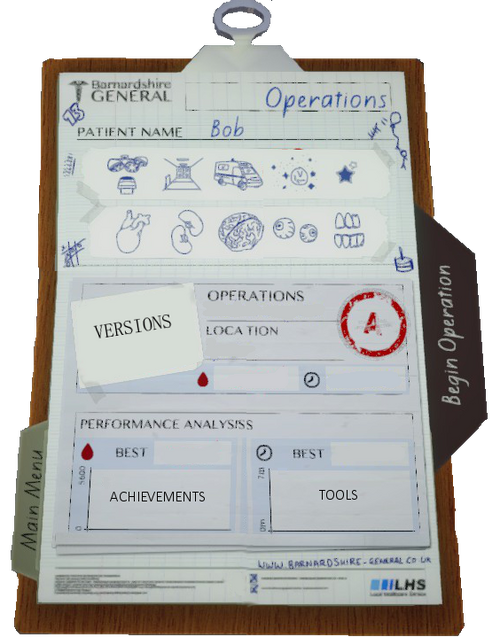 Can't find all the links? Check Content for the links in the image.
Reworked Main Page
As you might have noticed, the wiki has undergone some changes. I, User:Nightmarecorporation, have completely redone the style and presentation of the wiki.
These changes include:
A new static background image I found already existant in this wiki under File:Wiki-background, it was just not correctly implemented into the Theme Designer
A new favicon (the small icon you can see in the tabs) I took the S from the main logo, cut it out and scaled it down to 16x16.ico format for optimal functionality
A new banner (the image in the upper left corner) is simply the Surgeon Simulator logo scaled to the optimal width and height to appear centred
Other link colors - The previous color for linked pages was white, which is a horrible idea because users can't tell the difference between text and link
A small bit of transparancy, which makes the background more visible and gives the wiki some sort of touch
A new bot which will be maintained by myself and will help greatly to rename pages and create useful categorization
Some CSS tweaks to remove those small icons after every external link, which make the links on the frontpage incredibly ugly. Please be advised that the user won't be able to tell a difference between an inter-wiki link and an external link
Contacting the developers of the game and asked two things

The font style in the logo so I can create custom headers and stylish banners
The approval of the devs to call this wiki official, which doesn't mean much, but sounds good if listed on the frontpage

Merged all single Achievement pages into the big Achievements article. Reduced the total amount of pages by ~30 articles, while still having the same amount of content in the wiki
Removed all unnecessary pages and images, reducing the total pagenumber again. There should not be any more trash in the wiki.
A fashionable imagemap on the frontpage that links to all important contents of the wiki
A modified Navigation (the thing in the upper right) to allow quick movement between important pages and a general overview
Created a ton of content related to operations
I have finished my work on this wiki and hope you will use the site the way it's supposed to be used.
Sincerely,
Nightmare Corporation Talk 17:12, August 26, 2014 (UTC)
Activities
Buy Surgeon Simulator
Poll
Most recent articles